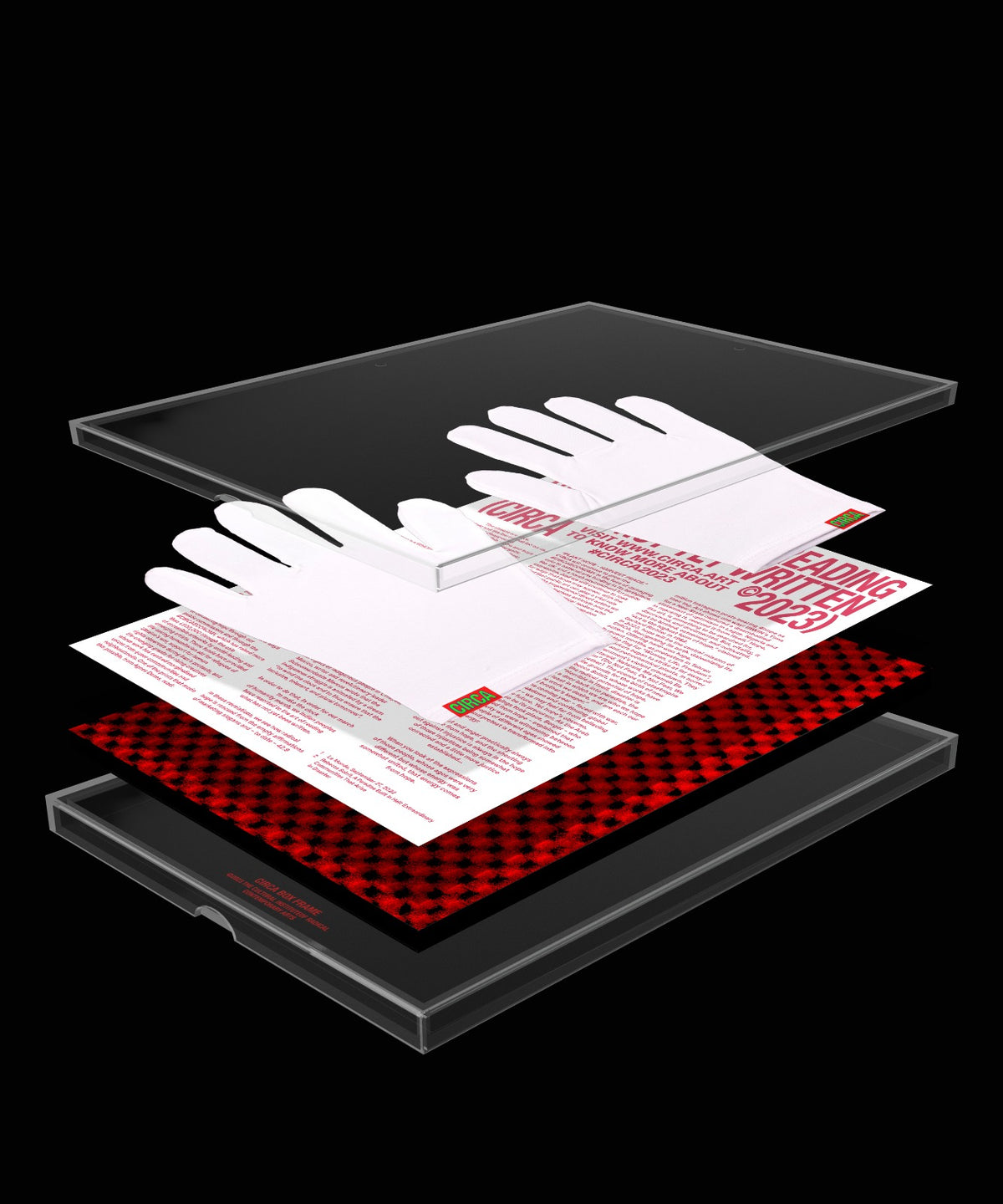 Introducing the CIRCA annual print subscription.

Become a CIRCA COLLECTOR and receive 12 unique limited editions by some of the world's leading artists, delivered to your door six times throughout the year. Each collector receives a custom designed CIRCA BOX FRAME ™ to house and display your growing art collection. Inside the plexiglass display box, discover a pair of white cotton preservation gloves to handle your prints with care, alongside a copy of our CIRCA 2023 Manifesto.
WHAT'S INSIDE THE BOX
Each subscription begins from the month of purchase and rolls thereafter for 12 consecutive months. Each CIRCA COLLECTOR receive the following: 
CIRCA BOX FRAME™ for print display and safe keeping. The plexiglass box includes a special pair of white cotton gloves and doubles up as a picture frame;

12 unique prints delivered six times throughout the year by leading CIRCA 2023 artists in support of the #CIRCAECONOMY;

A copy of the CIRCA 2023 Manifesto and care instructions;

For gifting, a personalised note will be included inside each box;

CIRCA COLLECTORS save approx. £500 annually.


ABOUT CIRCA
The Cultural Institute of Radical Contemporary Arts (CIRCA) is an art and culture platform with purpose. We stop the clock on global billboard screens every evening, and mobilise the world's greatest creative minds to broadcast unique works of art that consider our world, circa now.
Previous CIRCA commissions include Yoko Ono, Patti Smith, Tony Cokes, David Hockney, Marina Abramović, Ai Weiwei and many more.


SUPPORT THE #CIRCAECONOMY
Proceeds directly support the #CIRCAECONOMY - a circular model designed to support the CIRCA free public art programme and create life-changing opportunities for the wider art & culture community. Discover more here.


CERTIFICATE OF AUTHENTICITY
Each Limited Edition is packaged with a stamped and dated certificate of authenticity.


TERMS
Each month you will receive a limited-edition #CIRCAECONOMY print. In a month where we have multiple editions, CIRCA will allocate your print at random. By agreeing to the annual subscription, you are agreeing to commit for the full twelve-month period of the subscription. If you decide to cancel your subscription prior to the end of the twelve-month subscription period, you will not be entitled to a refund. For more information, please click here. 

DELIVERY
To guarantee each print arrives in perfect condition, they are carefully wrapped in tissue paper, hand packaged in a heavy duty cardboard wrap and delivered with a tracking number. 
We endeavour to deliver a CIRCA COLLECTORS subscription every two months. This is due to the time and process involved in printing and often arranging to have the artworks signed by the artist. 


INTERNATIONAL SHIPPING
VAT is calculated in the checkout section in your cart and is dependent on the subscription you select: UK or international. Shipping is included in the cost of the subscription. Monthly print deliveries are valued below
€150 meaning that we will collect import duties for the EU on your behalf. If your delivery address is not within the UK or EU, you may be subject to import duties, taxes and delivery service charges, which are levied once a shipment reaches your country. Any such additional charges for customs clearance must be borne by you.


Questions? please contact: customerservice@circa.art