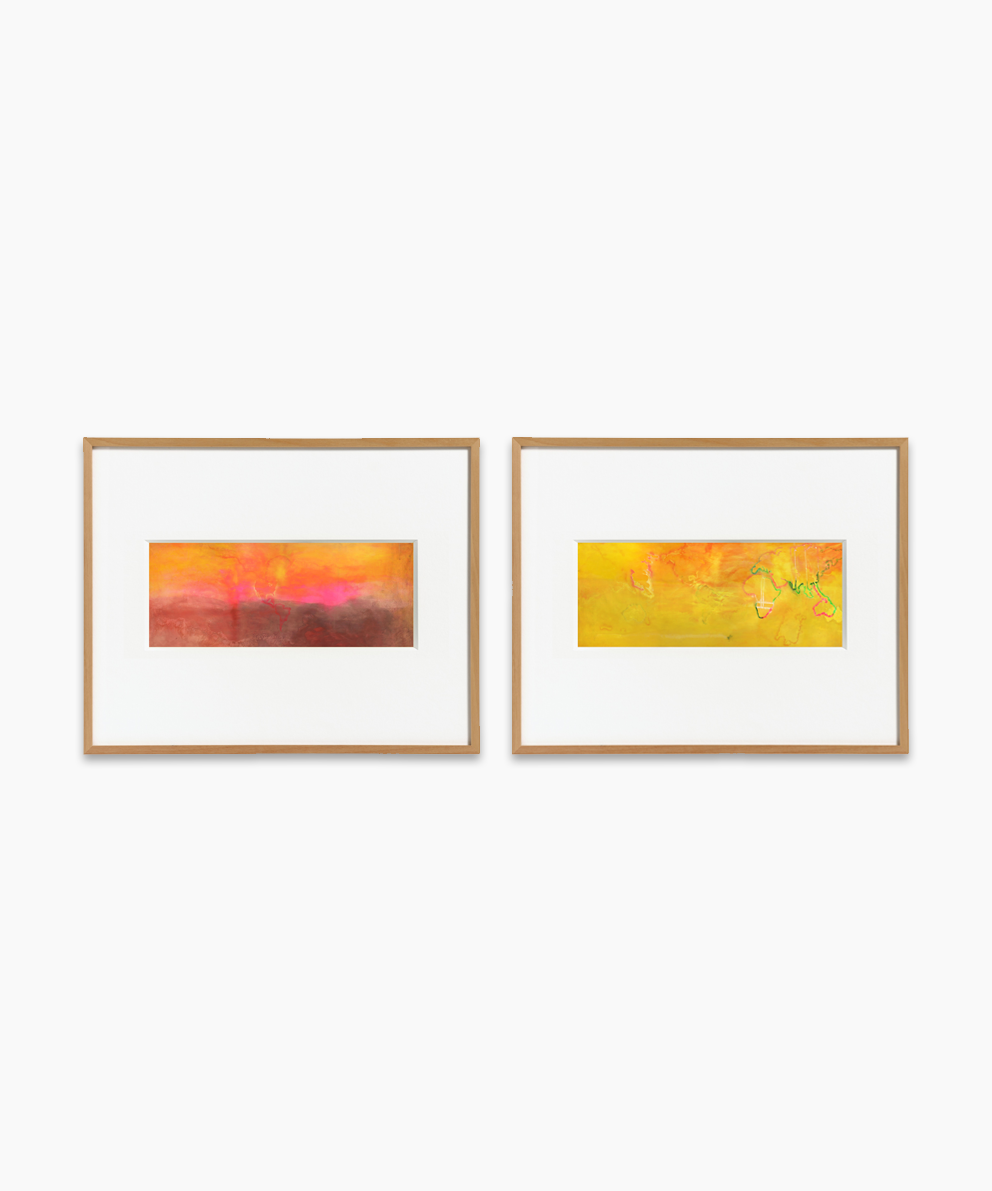 Series of 2 (Texas Louise + Australia to Africa)
Giclée prints on Somerset paper
297mm x 117mm
Limited Edition of 500 each
£120 +VAT ind. / £200 +VAT full set

Discover a series of two giclée prints by Frank Bowling. This limited edition series features two iconic Map Paintings – Texas Louise (1971) and Australia to Africa (1969-70) - included within Bowling's first digital artwork 'Arrival' commissioned by CIRCA to celebrate the 70-year anniversary of his arrival in London from British Guiana (now Guyana) in May 1953.

Reflecting on his arrival in London Sir Frank Bowling OBE RA, said ➳ "The moment I arrived in London, I knew I was home.. My uncle met me at Waterloo, and we travelled by Tube to Finchley Road. I wasn't even listening to what he was saying, I was looking round. It was summertime, and the whole of London town was still into the Coronation. And I went all over London – even up past Piccadilly Circus – travelling on the buses, on the train. It was amazing."


Arrival by Sir Frank Bowling, London, Piccadilly Lights © Frank Bowling, Courtesy CIRCA.



One of the world's greatest living abstract painters, Frank Bowling has spent the last six decades of his career dedicated to the exploration of paint and colour, creating a powerful and original style that has influenced the art historical canon. Marking the first time that the artist's work has been shown in a digital context, Arrival tells the story of his journey from British Guiana to the UK in 1953, appearing throughout May and June 2023 across a global network of screens in London's Picadilly Circus, Seoul. Milan, Los Angeles, Berlin and Tokyo. 

"The subject of my art is paint—the way that colour washes, spreads, bleeds, and the way that paint-colour emits light. After many decades working on canvas, it was a pleasure to collaborate with CIRCA in creating my first digital artwork. It shows two of my Map Paintings flowing together. It's a whole world thing – 70 years in the making."

Bowling travelled to the UK at the age of 19 in May 1953, arriving in London during the Coronation of the late Queen Elizabeth II on 2 June. The presentation of Arrival on London's Piccadilly Lights coincides with the 75th anniversary of the Empire Windrush arriving on 22 June. The ship brought a large group of Caribbean people to the UK to help rebuild Britain after WWII, with thousands more following in the decades thereafter – a moment which shaped the social and cultural fabric of modern Britain.

In the 'map paintings' (1967–71) fields of colour are overlaid with stencilled maps of the world and silkscreened images. Bowling worked on unstretched canvases, placing them on the floor and on the wall. He applied paint by staining, pouring and spraying. The southern hemisphere often dominates these canvases. This focus marks Bowling's rejection of the westerncentric cartography of many world maps. Images of the artist's mother and children are among those silkscreened onto some of the canvases. The results are complex, layered artworks. These 'map paintings' reveal Bowling's interest in the way identities are shaped by geo-politics and displacement.


SUBSCRIBE AND SAVE £500 ANNUALLY
Become a CIRCA Collector and receive 12 #CIRCAECONOMY prints by some of the world's greatest artists delivered to your door throughout the year. Each collector receives a custom CIRCA BOX FRAME™ to house and display your growing art collection. Discover the CIRCA COLLECTOR subscription.


SUPPORT THE #CIRCAECONOMY
Proceeds from each print directly support the #CIRCAECONOMY – a circular model designed to fund the CIRCA free public art programme and create life-changing opportunities for the creative community.
Since launching in October 2020 on London's iconic Piccadilly Lights, CIRCA has distributed over £500,000 in cash grants, scholarships and donations. Learn more about the #CIRCAECONOMY. 

CERTIFICATE OF AUTHENTICITY
Each Limited Edition is stamped on the reverse and comes packaged in recycled material with a numbered and dated Certificate of Authenticity. 

DELIVERY
Although we endeavour to deliver the prints as soon as possible, please note that due to the process involved, it may take up to 2 months to arrive in the post. To guarantee each print arrives in perfect condition, they are carefully wrapped in tissue paper, hand packaged in a heavy duty cardboard wrap and delivered with a tracking number. This is reflected in the shipping fee at checkout.

INTERNATIONAL SHIPPING
VAT is calculated in the checkout section in your cart and is dependent on the shipping destination. If your order is below 150€ then we will collect import duties for the EU at checkout. If it is over 150€ or your delivery address is not within the UK or EU, you may be subject to import duties, taxes and delivery service charges, which are levied once a shipment reaches your country. Any such additional charges for customs clearance must be borne by you.


ABOUT #CIRCAECONOMY
Each month, we sell limited editions by our exhibiting artists to generate funds for the #CIRCAECONOMY initiative – a circular model we designed to support our free public art programme and create life-changing opportunities for the wider creative community.
Learn more about the #CIRCAECONOMY.





Frank Bowling photographed in his London studio by Toby Coulson (2021)
ABOUT SIR FRANK BOWLING OBE RA
Born in Guyana (then British Guiana) in 1934, Sir Frank Bowling OBE RA arrived in London in 1953, graduating from the Royal College of Art with the silver medal for painting in 1962. By the early 1960s, he was recognised as an original force in London's art scene with a style combining figurative, symbolic and abstract elements. After moving to New York in 1966, Bowling's commitment to modernism meant he was increasingly focused on material, process and colour, so that by 1971 he had abandoned the use of figurative imagery. Bowling became a Royal Academician in 2005 and was awarded the OBE for services to Art in 2008 and a knighthood in the Queen's Birthday Honours in 2020. In 2022, he was awarded the Wolfgang Hahn Prize which honours exceptional contemporary artists. His work is represented in fifty collections worldwide and has been exhibited widely, including the 2017-19 touring exhibition Mappa Mundi, the hugely successful retrospective at Tate Britain in 2019 and the major solo presentation Frank Bowling's Americas at MFA Boston in 2022, touring to SF MOMA in May 2023. Texas Louise (1971) by Frank Bowling is currently on view until 11 September at The Bourse de Commerce — Pinault Collection, Paris. (frankbowling.com) 

ABOUT MAP PAINTINGS
Frank Bowling, Texas Louise, 1971.
Courtesy the artist and Hauser & Wirth. ©️ Frank Bowling.
All rights reserved, DACS 2023.
Credit-line: Pinault Collection.

Frank Bowling, Australia to Africa, 1971.
Courtesy the artist and Hauser & Wirth. ©️ Frank Bowling.
All rights reserved, DACS 2023. 

ABOUT CIRCA
The Cultural Institute of Radical Contemporary Arts (CIRCA) is an art and culture platform with purpose. We stop the clock on global media spaces every evening at 20:23 local time, mobilising the world's greatest creative minds to broadcast unique works of art that consider our world, circa now. 

Previous CIRCA commissioned  artists include Patti Smith, Tony Cokes, Yoko Ono, Marina Abramović, David Hockney, Ai Weiwei and more. Learn more about CIRCA.