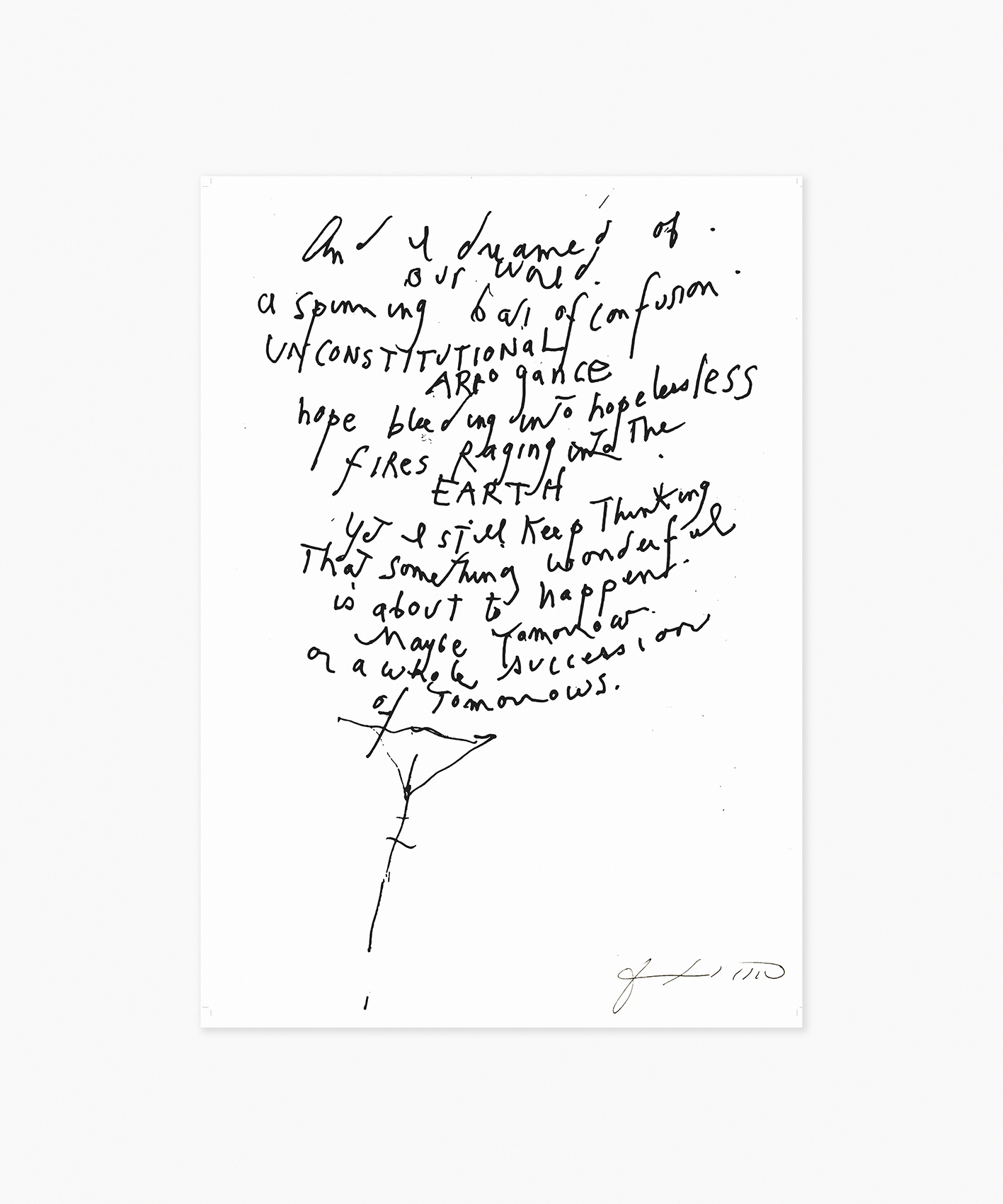 Our World, 2/4
Litho-print on Somerset paper
Time-limited edition
21 x 29.7cm
Hand-signed
£100 + VAT
Our World by Patti Smith has been created especially for the #CIRCAECONOMY. This hand-drawn poem was written in dedication to Greta Thunberg on her 18th Birthday and will be recited by Smith on Piccadilly Lights, 3rd January 2021. Forming a series of 4 prints, each drawing was taken from the artist's personal sketchbook. Available for one month only, 1-31 January 2021. 
CERTIFICATE OF AUTHENTICITY
Each Limited Edition comes with a stamped and dated certificate of authenticity.

DELIVERY

Although we endeavour to deliver the prints as soon as possible, please note that due to the process involved, they may take between 1-2 months to arrive in the post. To guarantee each print arrives in perfect condition, they are carefully wrapped in tissue paper, hand packaged in a heavy duty cardboard wrap and delivered with a tracking number. This is reflected in the shipping fee at checkout.


INTERNATIONAL SHIPPING

If your delivery address is not within the United Kingdom, you may be subject to import duties, taxes and delivery service charges, which are levied once a shipment reaches your country. Any such additional charges for customs clearance must be borne by you.
ABOUT CIRCA
CIRCA commissions a different artist each month to present new ideas that consider our world circa 2021. Previous CIRCA commissions include work from artists Patti Smith, Tony Cokes and Ai Weiwei. 
#CIRCAECONOMY
Our World by Patti Smith is created especially in support of the #CIRCAECONOMY, an initiative which arises in response to our post-Covid world. The #CIRCAECONOMY distributes 70% of profits to commission new culture and help support the creative community through cash grants to artists and institutions.