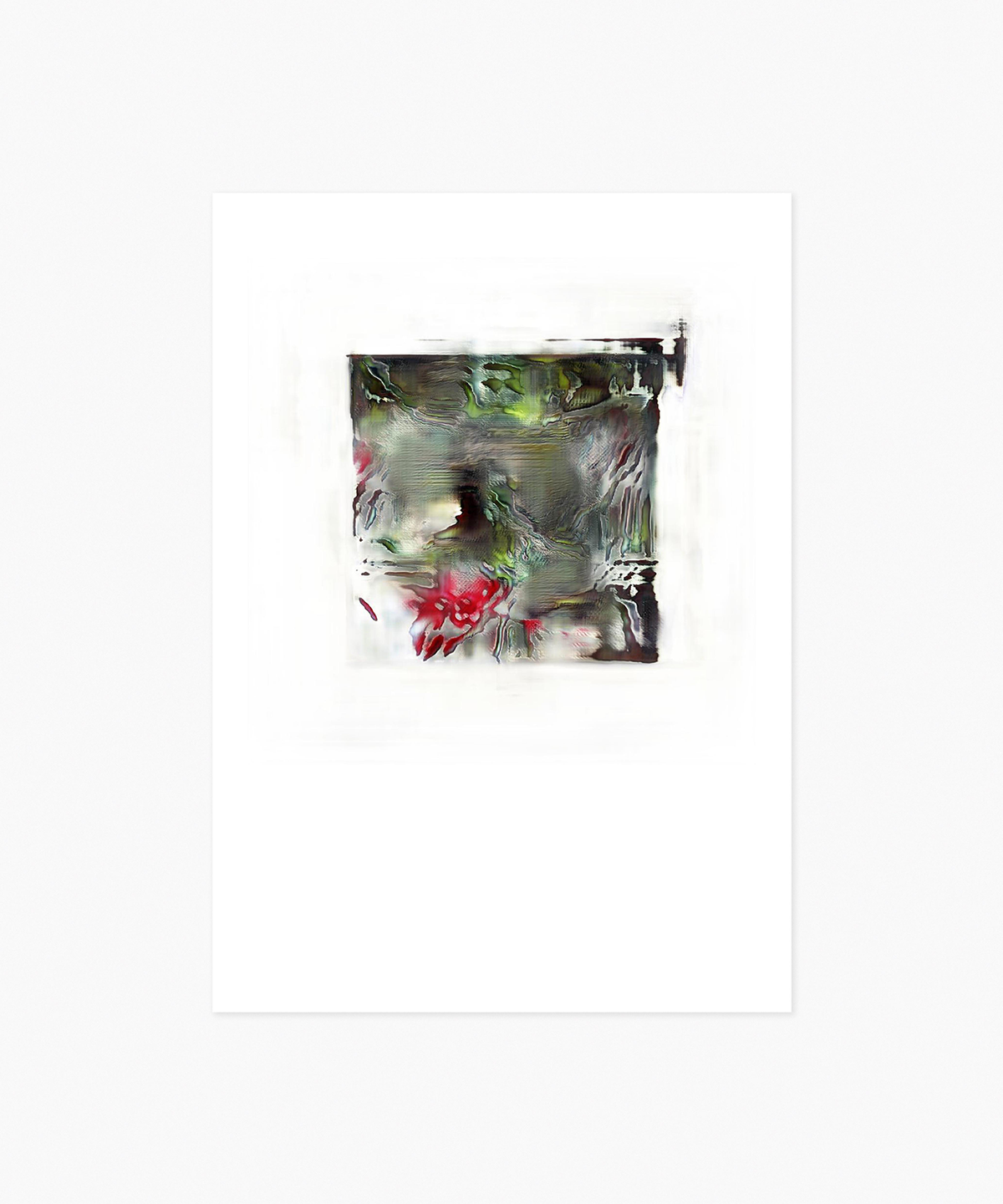 Untitled_2
Giclèe print on Hahnemühle Paper
Time-limited edition 01.01.22 - 31.01.22
210mm x 297mm
Hand-signed
£122 incl. VAT

This January, Arca invites audiences to enter into a sci-fi playground where she deconstructs reality through combining her handmade artworks with StyleGAN – a machine learning technology used to generate people, objects, and landscapes that have never existed - to build a new world. To coincide with this major new commission we are launching a special series of 4 time-limited  editions, each hand-signed by Arca and the AI: 
"I hope you are compelled by these interpolated paintings of mine to take a moment and let the visual ASMR produce pleasure, allow for a moment of respite and solace, the experience of warped beauty."
RELEASE DATE
Available exclusively on CIRCA between 1 January 2022 - 31 January 2022

CERTIFICATE OF AUTHENTICITY
Each Limited Edition comes with a stamped and dated certificate of authenticity.


DELIVERY
Although we endeavour to deliver the prints as soon as possible, please note that due to the process involved, they may take between 1-2 months to arrive in the post. To guarantee each print arrives in perfect condition, they are carefully wrapped in tissue paper, hand packaged in a heavy duty cardboard wrap and delivered with a tracking number. This is reflected in the shipping fee at checkout.

INTERNATIONAL SHIPPING
If your delivery address is not within the United Kingdom, you may be subject to import duties, taxes and delivery service charges, which are levied once a shipment reaches your country. Any such additional charges for customs clearance must be borne by you.

ABOUT CIRCA
CIRCA commissions a different artist each month to present new ideas that consider our world circa 2022. Previous CIRCA commissions include work from artists Patti Smith, Tony Cokes, David Hockney and Ai Weiwei.

ABOUT #CIRCAECONOMY
Untitled_2  by Arca is created especially in support of the #CIRCAECONOMY initiative - a circular model designed to support the CIRCA free public art programme around the world and create life-changing opportunities for the wider art & culture community. Discover more here.
ABOUT ARCA
Alejandra Ghersi (b. 1989) known professionally as Arca, is a singularity, a point where our preconceptions and prior knowledge break down, an entrance into a new realm of being. Her transcendent, transgressive body of work has collapsed long-standing barriers that once seemed impermeable: between artist and art, between human and technology, between avant-garde and pop, and between the many disciplines—from music to visual art to fashion and beyond—where she's made her indelible mark. Follow Arca  on Instagram.